Dear Future Dealmaker, 
Buying a small business is a legitimate path towards building wealth yet many people don't know how to buy or acquire a small business. 
Today we're living in unprecedented times. The future of work as we know is changing right before our very eyes. 
More than ever you cannot rely on a job to provide income, and trying to invest in the stock market comes with massive uncertainty, too. 
That's why many people are turning to entrepreneurship as a solution to replacing their job income, and starting businesses to create an asset vehicle for wealth. 
        People are creating their own opportunities in this crisis. 
In fact, according to the U.S. Census Bureau more Americans are forming new small businesses than in 2019.
Look at the graph below…
Yes, starting a business and embracing entrepreneurship is a path towards creating your own economy and income, but it also carries with it a lot of risk. 
Investopedia states that 90% of startups failed in 2019 alone. 
That's a 10% success rate! 
9 out of 10 startups fail if we use Investopedia's estimate.
That's crazy. 
F**K that. 
             Look there are TWO ways to become an entrepreneur
Start a business 

Buy a business. 
Starting a business is hard. You need to find product-market fit, acquire customers, hire employees, and raise financing for an unproven product or service. 
But buying a business is easier. You already have a product that sells, customers that buy, trained employees, and cash flow coming in every month. 
If I had to find a GIF to compare starting a business versus buying a business this would be it….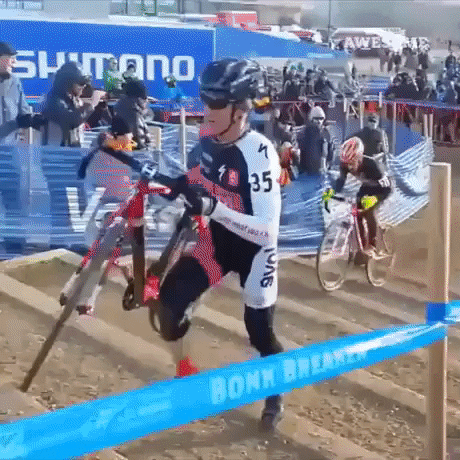 Starting a business is the guy using his bicycle to try to get up the stairs. He needs to get to the top, and of course, you can use your bicycle to get there. You will succeed, but will you succeed faster? 
Buying a business is the guy carrying his bicycle to the top because it's a smarter and faster way to get there. He succeeds at a faster pace. 
If you're going to be an entrepreneur then become a "Dealmaker Entrepreneur" not a "Startup Entrepreneur" 
    A "Dealmaker Entrepreneur" seeks a profitable business NOW 
A "Startup Entrepreneur" seeks to start a business that is making NO money now in the hope that the money will come in the future. 
But in today's world, with a 90% failure rate for startups, what's the chance of success? 
Maybe you do succeed, but how many years will it take? 
If your goal is to build wealth in the long term, wouldn't it be smarter to make a deal and buy a business with cash flow instead of starting one that has none?
I don't know about you, but I love cash flow. 
I'd rather innovate within an existing business with $200,000 in cash flow than start a business with $0 cash flow… and 0 customers. 
So if you're ready to get a headstart on 2021 then I'd like to teach you how to buy an existing business so you can start building wealth. 
I've created a program specifically designed to help you do this…
Introducing Dealmaker CEO 
In this program, you'll have access to the full step-by-step to learn how to buy your very first business…
AND how to do it using a leveraged buyout (i.e. none of your own money). 
This proven business buying formula is based on my 26 years of in-the-trenches experience buying and selling businesses…
And it's the EXACT process I use myself to buy new businesses and grow my wealth.
Inside this program, you'll get…
Module #1: DEAL MINDSET
This is, without a doubt, the most important module in this program.
Without the proper mindset, the rest of the information you learn in the course will be worthless.
For your best chance to succeed in buying a business within 99 days using none of your own money, you need strength of mind — and that's what this module gives you.
Module #2: DEAL SPECIFICATION
Before you can buy your first business, you need to know THE RIGHT businesses to search for.
This module helps you decide exactly what types of deals are best for you and your financial and lifestyle goals.
It will walk you through your very own wealth creation plan and give you clarity on the types of deals you should go after as well as the types of deals you should avoid.
Module #3: DEAL ORIGINATION
Once you've decided which types of businesses you're interested in buying… now it's time to hunt for deals!
In this module, you'll learn how to create an avalanche of deal flow so you always have new and exciting deals to analyze and potentially buy.
Module #4: DEAL ANALYSIS AND MEETINGS
Now that you have deal flow, it's time to dive in and see what's under the hood.
This module walks you through the steps to take before your first meeting with a seller, as well as what to do during and immediately after the meeting.
By following these steps, you'll know exactly what to do and say to make a good first impression on the seller and to gather the information you need for the next step.
Module #5: FINANCIAL ANALYSIS
At the end of your first meeting with a seller, you'll have access to the financials for their business.
This module walks you through how to analyze the numbers to determine if the business you're looking at is healthy, profitable and worth making an offer on… or if it's a business you should stay far away from.
Module #6: OFFERS & NEGOTIATIONS
When you find a healthy, profitable business, it's time to make an offer!
This module shows you how to use the information you discovered during your seller meeting to create a compelling offer that is highly likely to be accepted by the seller.
It also covers ethical negotiation tactics you can use to strike a great deal, for both you and the seller.
Module #7: FINANCING
At this point, the seller has accepted your offer. Congratulations!
This module walks you through the different types of deal financing and how to best use them. No matter the deal, there's always a way to finance it.
Module #8: DEAL EXECUTION
Once you have financing in place, you'll need to have due diligence done on the business to make sure there are no nasty surprises coming your way once you become the owner.
And don't worry — you don't have to do any of this yourself. This module shows you how to hire lawyers and accountants to do all the due diligence for you… at no upfront cost!
HINT: They get paid when the deal closes. You'll understand why they agree to this once you watch the lessons in this module.
Module #9: CLOSING
Finally, the moment you've been waiting for… CLOSING THE DEAL!
This module walks you through what happens on the day of closing.
Just like with due diligence, you don't have much to do here; your contingent-fee lawyer will take care of just about everything.
Module #10: 100-DAY OWNERSHIP TRAINING
Once the deal closes, CONGRATULATIONS! You're now the proud owner of a profitable business.
This is where the REAL fun begins.
This module walks you through how to massively and quickly boost your cash flow once the deal is closed…
As well as strategic tips on running and growing your new business.
In short, this is the module that shows you how to potentially make a boatload of money in a very short period of time.
This is where you have the opportunity to claim your freedom and finally start living the life you've been dreaming of!
You'll also receive my proven tools, templates and formulas for getting results FAST!
Direct approach letter template for contacting potential sellers — in my experience using this letter, I would estimate

 it's generated more than a 30% response rate for me

Non-disclosure agreement template

 — you'll need this so the seller is comfortable with sharing sensitive information with you

List of basic information requirements

 to get from a business owner during your first conversation

Simple financial analysis model

 — this is my "back of the napkin" financial model for determining if the deal is a good one

Advanced financial analysis model

 — this is the "deeper dive" you'll want to run to have a better understanding of the health of the business (Hint: Lenders love seeing this before giving you money!)

Simple cash flow forecasting model

 — this is my "back of the napkin" financial model to help you determine how much money you'll make once you own the business

Advanced cash flow forecasting model

 — this is the "deeper dive" you'll want to run to help you maximize your returns (and properly project future revenue)

The Financier Rolodex

 — We have a list of people who understand the zero-down business buying strategies in this program, and we'll give you our list of prescreened lenders to help you get financing!
PLUS! You'll get instant access to these four bonuses:
Bonus #1: Dealmaker Consultant Training ($997 value)
I promise I'm not exaggerating when I say this…
As a dealmaker consultant… you can charge $25,000–50,000 for your upfront retainer fee…
PLUS! You can get paid what's called a "success fee" when the deal closes.
So, if you're worried you don't have enough business experience to run the business yourself…
Or you want to get paid extraordinarily well while you hone your dealmaking skill set…
You're going to love this training.
But!
To be an effective dealmaker…
You're going to want to know a few crucial business buying strategies.
Which is why you'll ALSO be getting…
Bonus #2: Bolt-On Acquisitions Training ($1,997 value)
This has to be one of my favorite dealmaking strategies…
Here's how it works.
Let's say you (or a client of yours) owns a business… and you want to turbocharge growth.
You can either grow the business organically…
OR…
You can just buy a complementary business that serves the same customer base.
But those aren't the only kinds of deals you might wind up doing…
Which is why you'll ALSO be getting…
Bonus #3: Distressed Deals ($997 value)
Now, I normally recommend you buy a great business from a distressed seller…
Meaning the business is operational, has existing cash flow and is going to be easy to take over.
But sometimes, you'll find businesses selling at fire-sale prices because they're in bad shape.
And if you (or your client) has a great business in one sector already…
It can make a lot of sense to take over another business in the same sector that is failing.
Why?
Because you can absorb all of their customers (and whatever else is worth keeping) and plug it right into the business that works!
But remember:
The ONLY reason we're buying businesses is to build them and sell them for a fat payday.
And you want to make sure you know EXACTLY how to get the business ready to sell so you can (hopefully) sell it for MAXIMUM profit.
Which is why I'll also be including…
Bonus #4: Ready, Prep, Sell ($597 value)
Want to know the single biggest reason why great businesses don't sell for top dollar?
It's because they aren't properly prepared to sell.
Just like selling a home… you'll get a lot more money if it's properly staged, it has nice curb appeal, and everything is in working order.
In this module, I'll show you exactly what you need to do to find buyers who are willing to pay a great price…
And, hopefully, give you the biggest payday of your life!
When you complete your order today, you'll receive…
Dealmaker CEO (retail: $4,997)

Bonus #1

: Dealmaker Consultant Training ($997 value)

Bonus #2

: Bolt-On Acquisitions Training ($1,997 value)

Bonus #3

: Distressed Deals ($997 value)

Bonus #4

: Ready, Prep, Sell ($597 value)
My best "zero down" business buying training, valued at $9,585…
yours for only $6,997
TODAY: $1,997!
The full list of everything above — including all bonuses and templates — is valued at $9,585…
But if you take me up on my end of year offer…
I'll give you an incredible deal.
Bringing your total investment down to just $1,997.
And considering how much money you could make by owning your own business, that investment is just a drop in the bucket.
But if you want to claim this special offer, you MUST hurry fast. 
And yes, in case you're wondering, you're protected by my…
60-Day 100%-Money-Back Guarantee
Simply put, you'll have a full 60 days to try out this program to see if it's right for you.
At any point during that time, if you're not 100% satisfied, simply email or call my team and they'll give you a cheerful and immediate refund.
Fill out the order form below to take me up on my end of year offer